Updates
Sneak preview of The Absolute Speed & Marine Lake Ming Spring Regatta Presented by Nick Rose Insurance, Frederick & Sons Heating & Air, Mercury Racing, Gretchen's Automotive, Bones Baja Services, Amsoil, Hot Rod's & Hobbies, Parker Oil, Riversports RV & Marine & A-1 Canvas T-Shirt. These will be sold onsite. If there any unsold shirts we will … Please read full article about Sneak Preview
The Official SCSC Rulebook
Learn more about the various SCSC classes of racing
Contingency Connection Racer Rewards Program
SCSC will be participating in Contingency Connection Racer Rewards program for the 2023 season!
Contingency Connection is a NATIONAL Racer Rewards program offered exclusively at 50 tracks and series in the USA. Nearly $50,000 in Racer Rewards will be offered through a combination of awards and bonuses throughout the season. The Racer Rewards Contingency Book will be presented to Inboard classes at each event. These books include nearly $4000 in sponsor discounts for each winner.
Contingency Connection Racer Rewards sponsors offer product discounts to help make it more affordable for racers to race more often. Product certificates are good towards the next purchase from the manufacturer. Pricing is typically off jobber or a racer discounted price.
DECALS are the key for all Racer Rewards sponsors! RUN and BUY the products of your Racer Rewards Sponsors!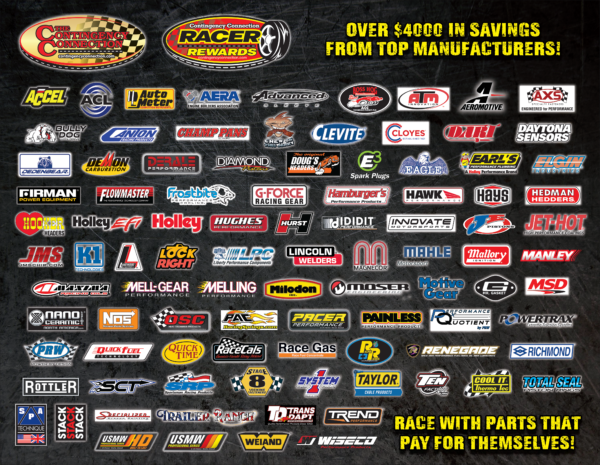 Follow us on Social Media
SCSC Racing Facebook Page
SCSC Racing Facebook Group
Please Support Our Sponsors!